Technical Education Designed to Create Lifelong Opportunities
Berks Technical Institute provides flexible career path education for the driven Pennsylvania students looking to build a skills-based career in everything from business and healthcare and more. Find a program fit for you and the future you've always dreamed of. Get started with BTI today.
Healthcare
Skilled Trades
Technology
Healthcare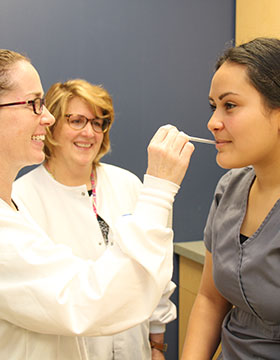 Healthcare
BTI offers a range of healthcare concentrations to help you find your place in the health and wellness industry. From medical coding to dental assisting programs, you will have the opportunity to gain the knowledge to pursue a career that can change lives.
Skilled Trades
Technology
*Berks Technical Institute does not guarantee third-party certifications. Certification requirements for taking and passing certification examinations are not controlled by Berks Technical Institute but by outside agencies and are subject to change by the agencies without notice to Berks Technical Institute. Therefore, Berks Technical Institute cannot guarantee that graduates will be eligible to take certification examinations, regardless of their eligibility status upon enrollment.
Why Choose Berks Technical Institute?
BTI offers quality career-focused education programs that help prepare each student for a successful line of work they can be excited about. Not only do our students have access to hands-on education, but they also are surrounded by a staff and community dedicated to helping them find their best path forward. Here are just a few ways that Berks Technical Institute helps your education and growth.
Small Class Size
Industry-Experienced Instructors
Strong Community Focus
Hands-On Training
Career-Focused Education
Soft Skills Development
Affordable Program Options
High School Diploma assistance
A Student-First Campus Designed for Your Success
Located between the Reading, Wyomissing, Saint Lawrence, and Lebanon areas, the BTI campus is a convenient place to begin the future you want. You'll find a campus with a variety of food options, plenty of parking and a community of supportive staff, instructors and other students. Schedule a tour to see why the Berks Technical Institute could be the right choice for you.
Don't have a High School Diploma?
So, if you're really unhappy with where you are, then you have to change it. It's that first step - once you take that, it's so much easier.
I would like to thank the staff from the bottom of my heart because they were always there to guide me. They taught me what was right and I learned from the best teachers.
They were always there every step of the way to support me and I wouldn't be in the position I am today without their help.
Are You Ready To Take The First Step?
Let us help you on the road to your dream career. Get in touch with our team to find the best program for you and take the steps to get started.